Spruce are generally more like the firs in appearance, with short, stiff needles and branches that hold ornaments well. Blue and White Spruce have a particularly beautiful color. Spruce tree varieties are on the page below. The summary table below has links to other types of trees. You may also like the automatic tree watering device that looks like a Christmas present, or the plain version. The links for photos and more info open new windows, so just close them to return to this page. Be sure to see the page about how to care for your Christmas tree and prevent needle drop to make your tree last longer!
Black Hills Spruce - Pinus glauca var.densata - green to blue-green needles; 1/3" to 1/4" long; stiff needles may be difficult to handle for small children. More info.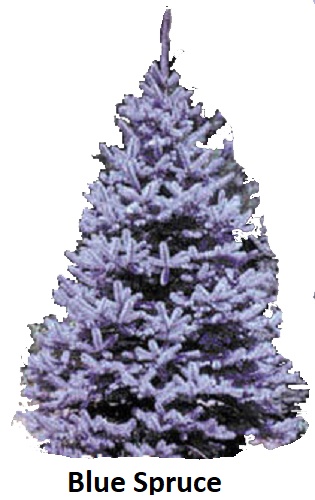 Blue Spruce - Picea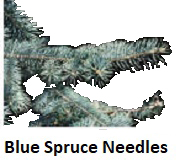 pungens - dark green to powdery blue needles.
The needles are very stiff, 3/4" to 1 and 1/2" long; good form; will drop needles in a warm room; symmetrical; but is still best among species for needle retention.
Branches are stiff and will support many heavy decorations. State tree of Utah & Colorado. Can live in nature 600-800 years.
The needles really do have a bluish look to them, as shown in the photo at right.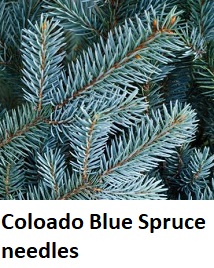 Often used for stuffing pine-pillows, these sharp needles are 1 - 1 and 1/2 in. in length.
This tree is a beautiful bluish-gray in color... but has an unpleasant odor when needles are crushed.
As a Christmas Tree, it has naturally good symmetrical form and
has an attractive blue foliage. It also has good needle retention.
Meyer Spruce - Similar to blue spruce with symmetrical strong branches that are great for hanging heavy ornaments. They are known for excellent needle retention.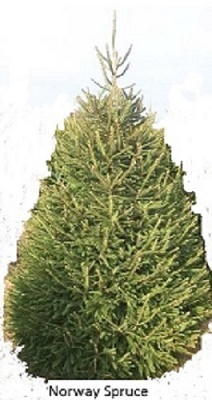 Norway Spruce - needles 1/2" - 1" long and shiny, dark green.
Needle retention is poor without proper care; strong fragrance; nice conical shape.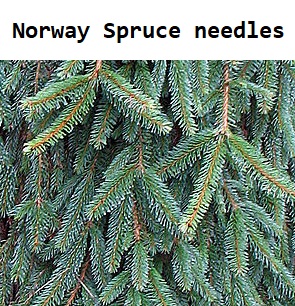 Very popular in Europe where it is also widely planted for use as a Christmas tree. Every Christmas, the Norwegian capital city, Oslo, provides the cities of London (the Trafalgar Square Christmas tree), Edinburgh and Washington D.C. with a Norway spruce, which is placed at the most central square of each city.
This is mainly a sign of gratitude for the aid these countries gave during the Second World War.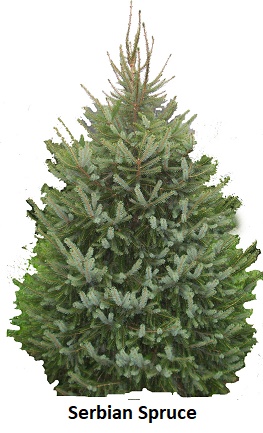 Serbian Spruce - Serbian spruce is native to a small region along the upper Drina river of Bosnia, Serbia and Yugoslavia, in Southeastern Europe. It tends to be tall and slender, with upswept branches.
Serbian is one of the few spruces with flat needles like a hemlock, not the four-sided needles of most spruces. The needles are short, 1/2 inch to 1 inch long with lustrous dark green above with an underside that has two broad, white bands. These bands give it a silvery look.
White Spruce - needles 1/2 to 3/4 inch long; green to bluish-green, short, stiff needles; crushed needles have an unpleasant odor; good needle retention. State tree of South Dakota.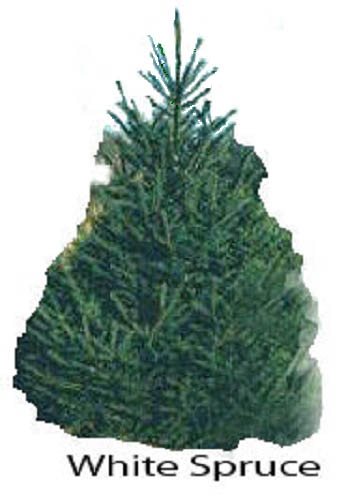 The White Spruce is excellent for ornaments; its short, stiff needles are 1/2 - 3/4 in. long and have a blunt tip. They are bluish-green - green in color, but have a bad aroma when needles are crushed.
They have excellent foliage color and have a good, natural shape.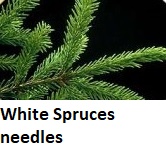 The needle retention is better in a White Spruce than it is among other spruces.
A tree from the tropics, these make a great houseplant AND they look great decorated as a Christmas tree.
Australians occasionally use a native plant called Australian Christmas tree, (Nuytsia floribunda, aka moodjar) as a living Christmas tree.