Cedars are only commonly used as Christmas trees in hot climates where the firs will not grow - and people want to cut a tree locally. SO you will see them in places like Arizona, Texas and the Deep South. Cedar tree varieties are on the page below. The summary table below has links to other types of trees. You may also like the automatic tree watering device that looks like a Christmas present, or the plain version. The links for photos and more info open new windows, so just close them to return to this page. Be sure to see the page about how to care for your Christmas tree and prevent needle drop to make your tree last longer!
Deodara Cedar -
Drooping branches with needles that may be either green or bluish-green needles.
The branches become pendulous at the tips. Deodara is native to Himalayas and the Deodara wood in Asia was used to build temples.
In ancient Egypt Dedodara wood was used to make coffins for mummies.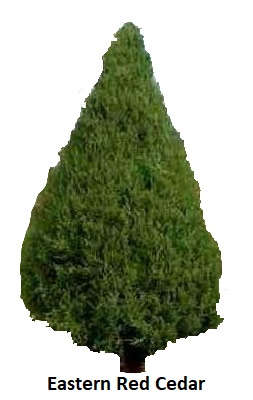 Eastern Red Cedar - leaves are a dark, shiny, green color; sticky to the touch; good scent; can dry out quickly; may last just 2-3 weeks; a southern Christmas tree.
The eastern red cedar is a traditional Southern Christmas Tree as it grows native there, while firs can't grow in the heat.
The color can vary from dark green to bluish silver during the summer months and then bronze, red or even purple after frost.
Easter red cedars can reach heights of over 40 feet. It has a good aroma which reminds you of its roots (it is not a true cedar, but rather a member of the juniper family). It is closely related to Juniperus scopulorum, the Rocky Mountain juniper.
Potted Christmas trees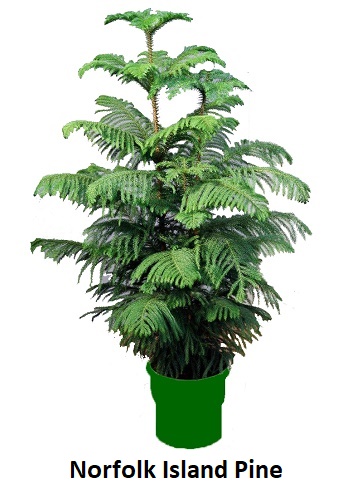 Norfolk Island Pine
A tree from the tropics, these make a great houseplant AND they look great decorated as a Christmas tree.
Australians occasionally use a native plant called Australian Christmas tree, (Nuytsia floribunda, aka moodjar) as a living Christmas tree.