Pine Christmas Tree Varieties / Types
Click here for a PDF Print version to take with you to the farm or lot.
(With the PDF, you can print just the table or pages of the trees you like!)
Pines are a good compromise between firs and cypress: they look and smell more like a traditional Christmas tree, are easily pruned to a good shape in the field and grow well in the warmer climates. But they can produce a lot of sap and that is sticky. Needle retention usually is very good.
Pines grow almost anywhere. In hot climates, pines may be the only locally grown choice
. Pine tree varieties are on the page below. The summary table below has links to other types of trees.
You may also like the automatic tree watering device that looks like a Christmas present, or the plain version. The links for photos and more info open new windows, so just close them to return to this page. Be sure to see the page about how to care for your Christmas tree and prevent needle drop to make your tree last longer!
Selection Guide to the Most Common Christmas Tree Varieties

(ALL trees are described on their pages, click on the links to Tree types - Firs, Cedars, etc.)
Ratings: 5= best, 4= very good, 3= average, 2= fair, 1= worst

Firs

Pines
Spruces
Cypress
Cedars
Misc
Unusual and Potted
Needle Holding


(without water)

4
5
5
5
5
3
1
4
4
3
3
varies
Needle Holding


(with water)

5
5
5
5
5
4
2
5
4
3
3
varies
Firmness Branches
2
3
3
5
2
4
3
5
2
2
2
varies
Fragrance
5
5
4
3
4
1
3
3
2
2
4
varies
Needle softness
5
5
5
2
5
3
3
3
5
3
4
varies
Cost
2
3
3
5
4
3
2
1
4
3
3
varies


* Balsam Fir, Fraser Fir & Pine needles generally cling onto branches even after boughs have become dry.
Cedars - Cypress - Firs - Pines - Spruce - Miscellaneous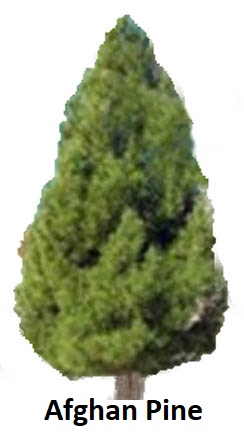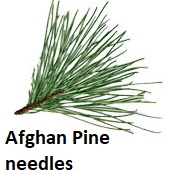 Afghan Pine -
Afghan Pines have soft, short needles with sturdy branches; open appearance; mild fragrance; keeps well; grown in Texas; native to Afghanistan, Russia and Pakistan.
Also called: Mondell Pine, Lone Star Christmas Tree, Pinus Eldarica.
Austrian Pine -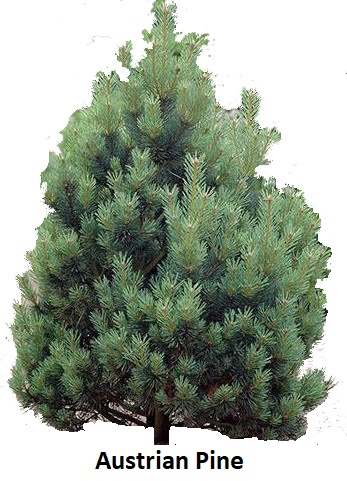 dark green needles, 4 to 6 inches long; retains needles well;
moderate fragrance. It is native to Austria, northern Italy and southern Mediterranean Europe from Spain to the eastern Mediterranean. It was introduced to the United States in 1759.
Historians suggest that it may have been one of the original Christmas trees, as it was worshipped by the Romans over 2000 years ago.
Monterey Pine (also called Radiata Pine) -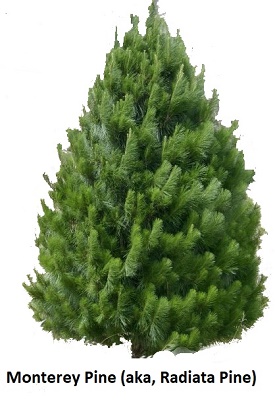 Pinus radiata, commonly known as Monterey pine, insignis pine or radiata pine, is native to California and Baja California.
P. radiata was introduced into New Zealand in 1859 and to Australia in the 1870s and has become an invasive species there, so cutting them down is encouraged.
It is the most common species of Christmas tree in Australia and New Zealand.
The seeds of radiata, as of all pine species, are edible.
Pine nuts have historically been an important food utilized by many Native American tribes.

Norway Pine -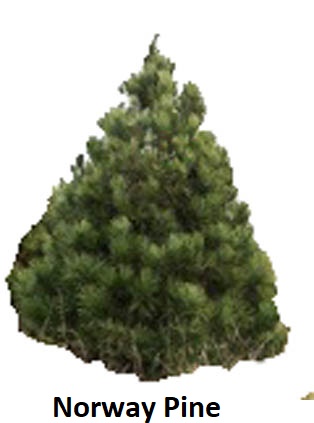 The Norway Pine, Also called the Red Pine (pinus resinosa) is Minnesota's State tree. It has dark green needles, 3"-5" in length, big and bushy. The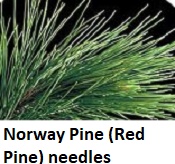 branches are strong and hold decorations well and has very good needle retention. Native to North America. It occurs from Newfoundland west to Manitoba, and south to Pennsylvania, with several smaller, isolated stands in the Appalachian Mountains in Virginia and West Virginia, as well as a few small pockets in extreme northern New Jersey and northern Illinois. It is not a common Christmas tree, as it requires a fair amount of shearing while growing to have a nice shape, and like all pines, sticky sap is a problem in a house.
Ponderosa Pine - needles lighter colored than Austrian Pine; good needle retention; needles 5" - 10" long. More info .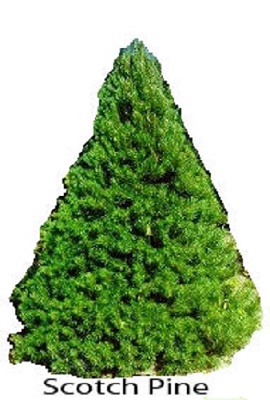 Scotch Pine - One of the most common Christmas trees; stiff branches; stiff, dark green needles one inch long; holds needles for four weeks; needles will stay on even when dry; has open appearance and more room for ornaments; keeps aroma throughout the season; introduced into United States by European settlers.
The color is a bright green. The most common Christmas tree in the U.S., the Scotch pine has an excellent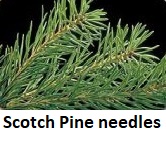 survival rate, is easy to replant and will remain fresh throughout the holiday season. If you want a potted tree to use as a Christmas tree and then plant after Christmas, Scotch Pine work well for that.
See photo at right and click here for more info and a close-up photo of tree .
Virginia Pine - dark green needles are 1 and 1/2" - 3" long in twisted pairs;
strong branches enabling it to hold heavy ornaments; strong aromatic pine scent; a popular southern Christmas tree.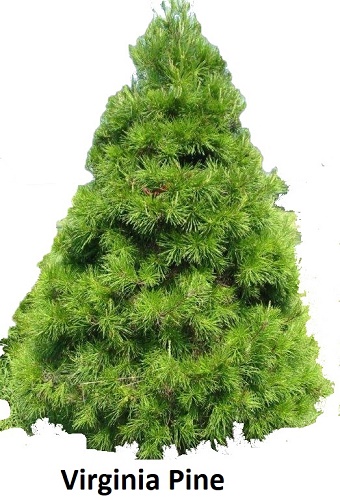 The branches are stout and woody and respond very well to trimming.
It is small- medium in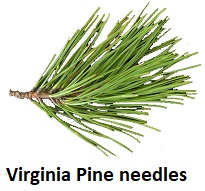 size and its foliage becomes extremely dense.
Aside from being a good nesting site for woodpeckers,
the Virginia pine continues to be the most popular Christmas tree in the South.
White Pine (a.k.a., Eastern White Pine) - larger photo -
soft, blue-green needles, 2 to 5 inches long in bundles of five; retains needles throughout the holiday season; very full appearance; little or no fragrance; less allergic reactions as compared to more fragrant trees.
The largest pine in the U.S., the White Pine has soft, flexible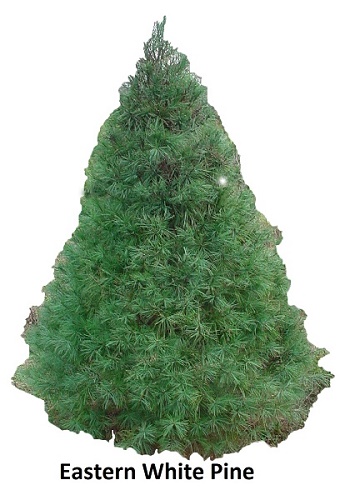 needles and is bluish-green in color. Needles are 2 and 1/2 - 5 in. long.
White Pine's have good needle retention, but have little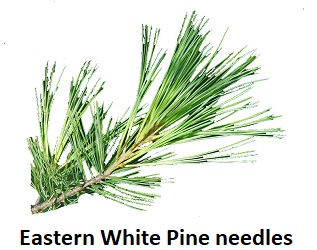 aroma. They are the state tree of Michigan & Maine; slender branches will support fewer and smaller decorations as compared to Scotch pine.
They aren't recommended for heavy ornaments. Its wood is used in cabinets, interior finish and carving.
Weird fact: Native Americans used the inner bark as food. Early colonists used the inner bark to make cough medicine.
Potted Christmas trees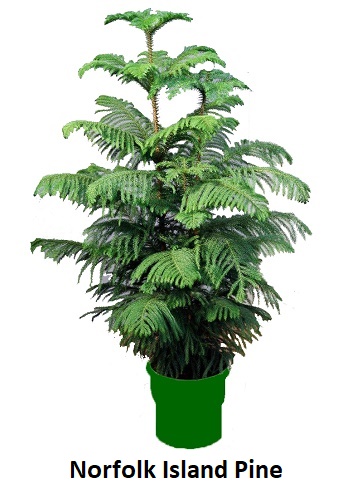 Norfolk Island Pine
A tree from the tropics, these make a great houseplant AND they look great decorated as a Christmas tree.
Australians occasionally use a native plant called Australian Christmas tree, (Nuytsia floribunda, aka moodjar) as a living Christmas tree.