Where and How to Recycle or Dispose of Christmas Trees in Monroe County, New York after Christmas 2022 and in January 2023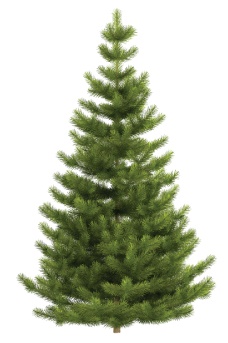 In many urban and suburban areas, Christmas trees are collected from curbside during the first 2 weeks in January. Be sure to remove all remove all lights, wire, tinsel, ornaments, nails, stands, other NON-Organic decorative materials and other materials that are not part of the original tree. This includes tree stands also. Flocked trees are usually accepted, but not artificial trees. Large trees (larger than the standard 6 - 7 ft tree) may need to be cut in half to be acceptable by your garbage hauler. But scrroll down this page for more specific information and local links.
What happens to the trees? In most cases, the trees are chipped and made into a mulch which is usually made available, free to city or county residents. Important: Never burn your Christmas tree in a fireplace or wood stove. Burning the tree may contribute to creosote buildup and could cause a chimney fire.
Tips: Always follow the links (usually the name of the city or county) below for updated information, as these agencies often wait until the last minute to change dates or update their information (it's government, remember?). If your area is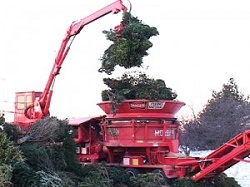 not specifically mentioned below, contact your trash collection agency and inquire!
Related information:
See this page for local options to easily recycle your Christmas holiday lights
If it has just snowed; see this page about how to make snocones from real snow! Your kids will love it!
Click here for the list of winter sleigh ride locations!
See our easy recipes to make a Chocolate Yule log and click here to make your own low-fat, low calorie but delicious Egg Nog ! Then come back to our other website in March to find a local Easter Egg Hunt for your children ! There are affiliate links on this page. Read our disclosure policy to learn more.
Monroe County, New York: Where and How to Recycle Your Christmas Tree After the Holidays January 2023
Monroe County - residents can once again recycle their Christmas trees, free of charge, at several locations across Monroe County. Most drop-off locations will accept trees throughout the end of January. Most communities provide curb-side pick up for trees. Contact your town or village for more information. You can also bring your Christmas trees to either the Amboy or Jamesville Compost Site between the first 2 weeks in January (Monday through Friday, 7:30 am to 4 pm). Trees must be free of ornaments, tree stands, lights, tinsel, etc. There is no charge to drop off items at either site. In the spring, the trees are ground into mulch that can be used in gardens and landscaping.
Monroe County/Waste Management ecopark
10 Avion Drive Rochester, NY 14624 During operating hours, trees may be dropped off next to the compost give-back center (no woodchips). For details, go to www.monroecounty.gov/ecopark.
Rochester, NY - Residential customers who wish to recycle their natural holiday trees may bring them to one of several holiday tree drop off locations around the city. The trees are chipped and the resulting mulch is returned to the public at no charge through the Materials Give Back Program located on Ferrano Street near Colfax Street.
Drop-off Locations - Beginning after Christmas and through the end of January, residents may drop their holiday tree for recycling at the these Rochester locations.
Department of Environmental Services - Operations and Parks Bureau From December 26 until January 31, City residents may bring trees to the drop-off sites listed below or put them curbside on their regular garbage collection day. Remove plastic bags, ornaments, etc.
Materials Give Back Facility located at Ferrano and Colfax Streets
Beach Ave. West of Lake Ave. @ Estes St.
Cobbs Hill Recreation Center - Lake Riley Lodge -- parking lot
Genesee Valley Park -- tennis court parking lot (Genesee Extension)
Norton Village Recreation Parking Lot- opposite 331 Waring Road
Green Renewables, Inc. After Christmas Day, trees may be dropped off at 225 Ballantyne Rd. Monday through Friday from 8 a.m. to 3:30 p.m.
High Acres Recycling Center & Landfill Perinton Perinton and Macedon residents may bring their trees free-of-charge to 425 Perinton Parkway from December 28 through January 31, Monday through Friday between 9 a.m. and 2:30 p.m. (closed from 11:30 a.m. - 12:30 p.m.) and Saturdays between 8 a.m. and 12 noon. Non-residents $1 fee. Christmas Tree Recycling 2020 Drop Off Location / Program Sponsor Instructions
Town of Brighton Town collects residents' trees curbside. Chips available until depleted.
Town of Chili Town residents may drop off trees in the designated area at the Highway Department, 200 Beaver Road, throughout January. Curbside pick-up and woodchips are available.
Town of Clarkson Drop trees off any day/time at the designated area in front of the Highway Department, 3623 Lake Road, or at the Transfer Station, 3078 Redman Road (½ mile N. of Rt. 104) Wednesday from 2 - 7 p.m. and Saturday from 8 a.m. - 4 p.m. No permit required.
Town of Gates Highway Department Normal weekly collection with brush pickup.
Town of Greece Town residential curbside collection during January (weather permitting). Trees may also be dropped off Monday through Saturday at 635 Flynn Road (the Town transfer station) from 8 a.m. to 3 p.m. excluding holidays.
Town of Hamlin Residents may drop off trees through February 28th at 91 Railroad Avenue (just past Highway garage) in brush pile.
Town of Henrietta Residents may bring trees to the Tinker Nature Park, 1525 Calkins Road (behind the barn) from December 26 through January 31. Donations for the Rush-Henrietta Food Cupboard will be accepted.
Town of Irondequoit Helmer Nature Center Residents may bring trees to the Helmer Nature Center, 154 Pinegrove Avenue, until mid-January. NO TREES ACCEPTED AFTER 1 P.M. ON SATURDAY, JANUARY 16, 2020.