Looking for a local Christmas tree farm, tree lot, sleigh ride, Santa visits, reindeer or hayride in Montana? Just select your area in the list or map below. See these resource pages:
Our Christmas Tree guide with photos and descriptions of more than 2 dozen varieties of Christmas trees, along with a simple comparison chart! And a PDF print version to take to the farm with you!
If you know of any tree farms I missed and want to add it or correct the information, or provide feedback about a farm or the website , please let me know!
After Christmas, click here to find how how and where to easily recycle or dispose of your Christmas tree! And to recycle used, broken or old Christmas lights and electronics See this page for local options to easily recycle your Christmas holiday lights. There are affiliate links on this page. Read our disclosure policy to learn more.
Looking for more info?
Updates for December 2023
December 2023: Tree supplies are looking good, but expect prices to be up this year. It's always smart to get to the tree farm early and tag or reserve your tree, if they allow it. Many tree farms allow tagging starting in mid-November.
And next Spring, you'll want to take your children to a free Easter egg hunt - see our companion website to find a local Easter Egg hunt - (www.EasterEggHuntsAndEasterEvents.org) . It's the ONLY website that is updated every Easter for all Easter Egg hunts in the U.S.
Christmas tree farms, lots and activities
Click one of these areas (or click on the map further down this page) To see sleigh rides in Montana SCROLL DOWN THIS PAGE! (orclick here )
Montana County Map
Click on your area on the map!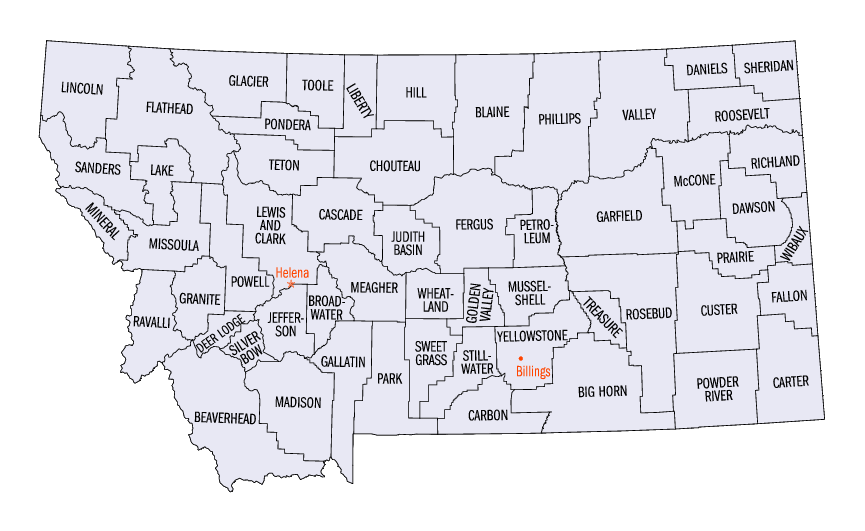 Carbon County
Beartooth Wagon & Sleigh Rides -

sleigh rides

(no trees for sale)
PO Box 63, Red Lodge, MT 59068. Phone: 406-446-2179 or 406-425-0152. Directions: Beartooth Wagon and Sleigh Rides is located on the north end of Red Lodge. Located 2 blocks off of Highway 212. Street address is 2nd Street North. Watch for Beartooth Wagon & Sleigh Ride signs.Open year around. We do wagon rides in Spring, Summer and Fall, with sleigh rides in the winter. We do chuck wagons rides in the Spring, Summer and Fall. We also do chili, hot chocolate and french bread after a nice sleigh ride, and this is served around a bonfire. We make your fun good and Western. We have 2 fine buggies that we use for weddings and special occasions. All this is done with beautiful draft horses, large and small. Large and small groups are welcome by reservation. Our company has been in business for 10 years and we are fully insured. We are nestled at the foot of the Beartooth Mountains and 60 miles from Yellowstone Park. For further information call; (406)446-2179. Please leave a message and we will return your call.
Flathead County
Rainbow Carriage Services, Inc. -

sleigh rides

(no trees for sale)
651 Steel Bridge Road, Kalispell, MT 59901. Phone: 406-755-9801 or 406-257-3347. Directions: Upon reaching your destination in Kalispell, please call Alan Quimby at 406-755-9801 and he will escort you to the area of wagon train departing point. At Rainbow Carriage Services, Inc., the spring brings the first wagon train tours for the summer, extending on into September. The wagon train route includes semi wooded areas, rivers, streams, and majestic Rocky Mountain view. The wagon train tours offers two types of tours: one that offers a quiet time to enjoy the outdoors and the soothing crackling fire in the evenings, the other is a more custom tour which offers entertainment in the evenings such as cowboy poetry and songs. All meals are cooked in the wide open spaces and consumed around the camp fire as did the early pioneers. Sleep in conventional dome tents. Travel either in the wagon or on horseback as an outrider. The wagon trip takes you up high along a mountain side where you can look into 'onto the Rocky Mountains' and see the 'height, breadth and grandeur' of this natural wonder. Then it drops down into the meadows and follows along the Flathead River. The camps are situated along this pristine river. For further information call 755-9801.
Gallatin County

Do you know of any other Christmas tree farms or other special Christmas and winter events in Montana? Please tell me about them - Click here to write to me!