What is the cost of a Christmas Dinner dinner?
Every year, we hear "the average cost of Christmas dinner for a family or 4 (or 10) is ____" . So, what is this number for 2023, and how is it calculated?
We believe our calculation of the total cost of the average Christmas dinner is - by far - the most accurate. You'll see why as we include things that are necessary, but the average newspaper journalist seems to forget.
Calculators:
See these pages for the
Or for the Christmas dinner estimate, see:
What's in an American Christmas holiday dinner?
There are definitely regional differences; such as red velvet cake and sweet potato casserole with a marshmallow topping in the deep South and oysters in Virginia. See this page for a list of regional differences in Christmas dinners.
But there is some commonality. The items most commonly include in the average American Christmas dinner are stuffing mix (herbed bread or cornbread), corn, green beans or green bean casserole, apple pie, with a whipped topping, butter, cranberry sauce, bone-in spiral-cut ham, eggnog, homestyle biscuits, crescent rolls or sweet rolls, russet potatoes (baked or mashed), turkey and turkey gravy.
So let's assume that the Average American is going to have a small to medium turkey plus some ham. We'll put the other options and statistics in the table below along with this year's costs, but we'll total based on these 2 main dishes plus the sides. You can see exactly how much your own choice of main dishes and sides will be in our Christmas dinner cost calculator.
Table of dinner items and costs
Excluding alcohol. I cannot even guess how much some of you can drink...
Item
Price each
14 lb for 4 to 6 people
20 lbs -for 10 people
Turkey - 73% of Americans serve turkey; Roast or smoked, or fried (fried requires peanut oil, an additional cost), Let's assume a small turkey and some ham (see below)
$1.68/lb
$23.52
$33.60
Roast pork - (64% serve pork) (Use the Christmas dinner cost calculator to see the cost included)
$4.00/lb
Ham - (62% serve ham) Some people like both turkey AND ham. Assume 1/3 lb per person if this is in addition to the turkey, or 1/2 lb per person if served alone
$4.56/lb
9.12
$15.00
Roast beef (69%), or a Prime rib roast (66%) or steak (65%), at right, shown for Prime Rib (hey, it's Christmas) (Use the Christmas dinner cost calculator to see the cost included)
$18/lb
Chicken (64%)- typically roasted whole roaster chicken (Use the Christmas dinner cost calculator to see the cost included)
$3/lb
Cranberry sauce - at least 1 can per 4 people.
$1.50
$3.00
$4.50
Stuffing (a.k.a, dressing)
$3.00
$3.00
$6.00
Gravy packet, ($1.79) with liquids from the turkey
$1.79
$1.79
$3.58
Chicken broth ($3.00)for the gravy
$3.00
$3.00
$6.00
Mashed potatoes or in the South, sweet potato casserole.
5-pound bag of russet potatoes, Sweet potatoes are slightly more
$4.29
$4.29
$8.58
Dinner rolls, bread or buns $4 to $8, depending how many and which brand
$4.00
$4.00
$8.00
Green bean casserole - Green beans (per can): $0.89 per can, at least 2 cans for a casserole for 4 - 6 people
$.89
$1.78
$3.56
Cream of mushroom soup for the bean casserole
$1.25
$2.50
$5.00
Fried onions (6 ounces): used in the bean casserole
$4.29
$4.29
$4.29
Pies: Apple, pumpkin, pecan or sweet potato pie;
Apple pie is always popular, $10 at Costco for a huge one
Pecan is the most expensive. $10 for a small one,
Pumpkin is the cheapest $6 for a small one $10 for a large one
Most families like to have 2 pies, apple AND either a pumpkin pie or something else (pecan pie, red velvet cake in the Deep South, etc.)
$6.00
$12.00
$18.00
Miscellaneous - there are always a few things you realize you're out of, like butter, milk for the mashed potatoes, sour cream, a spice or you have to get something special for Aunt Karen because she is lactose, gluten - nut-intolerant)
So add in $10 for those things
$10
$15
Extras and alternatives (NOT included in the cost estimate below)
Eggnog
Appetizers: like a cheese plate, crackers, dips, chips, Swedish meatballs, etc.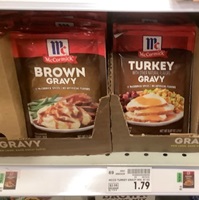 The bottom line:
Total for 4 - 6 people: $82.29 plus tax (at 6%, total = $87.23)
Total for 10 - 12 people: $131.11 plus tax (at 6%, total = $138.98)
You can edit the ingredients, quantity and costs with our Christmas Dinner Cost Calculator!
Give it a try! and then print the results as a shopping list!
Remember, while the inflation rate may have slowed, that only means that the rate of increase of food prices has slowed; it does not mean food prices have come down a single penny.
Recipes
You can also save money and make a MUCH better tasting dish without processed chemical, by making it yourself. And it is so easy with our recipes. These are by far the best and easiest:
How to get the best prices and best deal?

Can you do it for less. Sure. Here's how
Overall tips to cut costs
Buy at Costco or Sam's Club - Their prices on these items are FAR lower; turkey's pies, etc and their quality is the best.
Buy generic or store brands. They're usually made by the same companies
Look for store specials and sales the week before the holiday.
Sign up for digital coupons on store apps and the store's loyalty program.
Don't wait until the last minute - stores often run out!~
Turkey
In 2023, it's costing from $0.99 per pound for frozen store brand to $1.68 for frozen butterball to $3/lb for organic, fresh or just the breast.
In general, per pound, frozen turkey is the best value:
Fresh turkey costs double a frozen turkey.
Organic turkey costs 3 or 4 times a frozen turkey
Turkey breasts (bone-in) costs 3 times a frozen whole turkey
Costco and Sam's usually have the best prices, in 2023, around $1.00 per pound for whole turkeys.
Many grocery stores have special low prices on turkey if you buy more than a specified amount of groceries (like $50 or $75) when you buy the turkey.
Side dishes
Get your guests to each bring one!
Green bean casserole
Mashed potatoes
Sweet potato casserole
Steamed broccoli
Stuffing or dressing (nobody who doesn't want to get salmonella cooks it in the bird, anyway)
Salad
Desserts
Same, here, have a guest bring one.
Make your own pumpkin pie from a fresh winter squash - it is EASY - see this page, and tastes SO much better!
What do OTHER sources estimate the costs to be?
The American Farm Bureau (AFB) produces an annual estimate of the cost of a Thanksgiving dinner. Their dinner for 10 people includes turkey, stuffing, sweet potatoes, rolls with butter, peas, cranberries, a veggie tray, pumpkin pie with whipped cream, and coffee and milk, Here were their past estimates (their estimate is released Nov 15 each year)
Frankly, I think their estimate is absurdly low. Have you ever been able to do Thanksgiving dinner for 10 people for these costs?
| | | | | | | |
| --- | --- | --- | --- | --- | --- | --- |
| Source and year | 2018 | 2019 | 2020 | 2021 | 2022 | 2023 |
| AFB | | $48.91 | $46.90 | $53.31 | $64.05 | ??? |
| Yahoo Finance, for 11 people | $152 | | | | | |
| Fox News San Antonio | | | $60.29 | | | |
Here are the general inflation facts:
Food prices at the grocery store are up 17% since 2021.
In 2022, the inflation rate hit 13%.
In 2023, the food inflation rate was at 2.4%,
References