Where and How to Recycle or Dispose of Christmas Trees in NYC and Long Island New York after Christmas in January 2021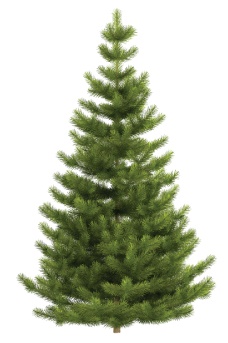 In many urban and suburban areas, Christmas trees are collected from curbside during the first 2 weeks in January. Be sure to remove all remove all lights, wire, tinsel, ornaments, nails, stands, other NON-Organic decorative materials and other materials that are not part of the original tree. This includes tree stands also. Flocked trees are usually accepted, but not artificial trees. Large trees (larger than the standard 6 - 7 ft tree) may need to be cut in half to be acceptable by your garbage hauler. But scrroll down this page for more specific information and local links.
What happens to the trees? In most cases, the trees are chipped and made into a mulch which is usually made available, free to city or county residents. Important: Never burn your Christmas tree in a fireplace or wood stove. Burning the tree may contribute to creosote buildup and could cause a chimney fire.
Tips: Always follow the links (usually the name of the city or county) below for updated information, as these agencies often wait until the last minute to change dates or update their information (it's government, remember?). If your area is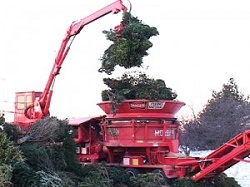 not specifically mentioned below, contact your trash collection agency and inquire!
Related information:
See this page for local options to easily recycle your Christmas holiday lights
If it has just snowed; see this page about how to make snocones from real snow! Your kids will love it!
Click here for the list of winter sleigh ride locations!
See our easy recipes to make a Chocolate Yule log and click here to make your own low-fat, low calorie but delicious Egg Nog ! Then come back to our other website in March to find a local Easter Egg Hunt for your children ! There are affiliate links on this page. Read our disclosure policy to learn more.
NYC and Long Island New York: Where and How to Recycle Your Christmas Tree After the Holidays January 2021
General Methods - The Top Ways to Get Rid of Your Christmas Tree
(or for those who are still politically "correct", your "holiday tree". Yeah, good luck with that...
Curbside - New York City Christmas Tree Recycling Schedule - Composting: Weather permitting, DSNY will collect clean Christmas trees starting on Monday, January 4 through Friday, January 15, 2021.
If you leave your tree with the Parks Department, they will recycle it for you later. The trees are chipped, mixed with leaves, and recycled into rich compost for NYC's parks, institutions, and community gardens. Remove all lights, ornaments, stands, and plastic bags from your tree; trees that still have these items attached will be collected as garbage. Recycling: Remove ornaments from fake trees that are mostly metal or rigid plastic, and put out next to your recycling container on regular recycling days. Garbage: Except for the dates indicated in early January, Christmas trees are collected as garbage. Discard fake trees that are not mostly metal or rigid plastic with regular trash. Click here for locations, updated information and more details. Residents are encouraged to put out their discarded trees at curbside as early as possible during the collection period. DSNY asks residents to remove all tree stands, tinsel, lights, and ornaments from trees before placing them out for collection. DO NOT place trees in plastic bags. Trees will be chipped into mulch that will be distributed to parks, playing fields, and community gardens throughout the city.
Take your tree to a Mulchfest drop off site- December 26, 2020 to January 9, 2021 from 10:00 am to 2:00 pm Bring your holiday tree to a designated city park to be recycled into mulch that will nourish plantings across the city! For more information on Christmas tree collection and recycling and/or Mulchfest, visit the parks department website or see this city page or simply call 311. The locations are on their website.
Fake Tree Recycling: Remove ornaments from fake trees that are mostly metal or rigid plastic, and put out next to your recycling container on regular recycling days.The City will accept and chip Christmas trees at the annual MulchFest events at selected park locations throughout the five boroughs. They also have Chipping Saturdays: Saturday, January 2, 2021 and Saturday, January 9, 2021, 10:00 am to 2:00 pm: Join us on Chipping Weekend to take home a tree-mento! We'll chip your tree and give you your very own bag of mulch to use in your backyard. The Staten Island Mulchfest collection locations are:
Clove Lakes Park (chipping happens here - this is the only site to collect the mulch)
Conference House Park
Midland Beach parking lot number 8
Silver Lake Tennis House
Tappen Park
Westerleigh Park
Willowbrook Park
Wolfe's Pond Park
Private companies who will pick up for a fee - Tyler's Trees and NYC Trees and TaskRabbit offer tree removal services. Generally starting at $50 and going up!
Garbage: Except for the dates indicated in early January, Christmas trees are collected as garbage. Discard fake trees that are not mostly metal or rigid plastic with regular trash.
Long Island City and Town Specific Information
Brookhaven - Christmas Trees can be collected at the curb, separate from garbage, as brush on Sunday nights preceding leaf weeks (do not bag). There is a special week for Christmas trees to allow them to be recycled (please check the calendar). If over 6 feet must be cut in half or brought to the Town landfill. Make sure to remove any stands, lights, ornaments, bags etc. Artificial trees are NOT accepted.
Babylon - Christmas trees can be placed on the curb on your regular yard waste day for pickup. The trees are placed at town beaches to prevent erosion
East Hampton - Put Christmas trees out by the curb so the highway department can collect them and chip them for compost.
Glen Cove - The city has an annual Chip-A-Tree event on the second Saturday in January at Morgan Park. Glen Cove Beautification also sponsors free Christmas Tree mulching at our Chip-A-Tree Event which will be held on Saturday, January 9, 2021 from 8:30 am until 12:00 noon at the Morgan Park parking lot. The first 50 residents will receive free evergreen saplings to plant at their homes and everyone can enjoy free coffee and donuts. Trees can also be dropped off prior to the event beginning January 4, 2021 at the designated Morgan Park parking lot location. After the January event, Christmas trees will be picked up curbside on Wednesdays with yard waste by the Glen Cove's Sanitation Department. For more information, call the Glen Cove Department of Parks & Recreation at (516) 676-3766.
Hempstead - Christmas trees, wreaths and yard waste will be collected on the first two Wednesdays in January. Residents are asked to place trees and wreaths at the curb before 6 am and no earlier than 7 pm the night before the special collection day.
Huntington - Christmas trees are collected crubside as yard waste on regular yard waste pickup days. Trees are taken to the town's yard waste facility and tiuirned into mulch. Residents can get free mulch at the center.
Islip - They pick up Christmas trees with winter yard waste Monday through Thursday in January. The trees are turned into mulch.
Long Beach - For residents who wish to dispose of their Christmas tree, you can put it outside, separate from the regular garbage, for pickup by a special truck on your regular pickup day, which for the East End is Monday & Thursday and for the West End is Tuesday & Friday.
North Hempstead - Residents can leave live Christmas trees curbside on normal yard waste collection days for the first two weeks of January. Please remove all decorations, lights and ornaments. The trees are repurposed into mulch. This saves other trees from being cut down while reducing the space it would take up in a landfill. Residents can recycle their holiday lights and unwanted electronics. Under New York State law, e-waste may no longer be disposed of curbside but must be brought to one of our drop-off sites (information below). Collected electronic waste is hauled off by the town's EPA certified e-waste recycler, who disassembles the items, salvages the useable parts, separates out potentially damaging materials, and recycles the balance. Residents can dispose energy-gulping holiday lights until the end of January, and other unwanted electronics on Sundays from 7:30 am to 3:30 pm at North Hempstead's residential drop-off site, located at 999 West Shore Road in Roslyn. E-waste can also be disposed of during the weekdays at North Hempstead's Solid Waste Management Authority (SWMA), located at 802 West Shore Road in Port Washington, Monday through Friday, from 8 am to 4 pm., excluding holidays. For more information on "Tree-Cycling", please call 311 or visit www.northhempsteadny.gov .
Oyster Bay - In sanitation collection districts just put out Christmas trees to the curb on your regular S.O.R.T. collection day as part of yourr regular yard waste collection. Sanitation crews will pick up the trees and take them to compost facilities where some of the compost is made available, free-of-charge, to residents for use on their home gardening and landscaping projects. For more information regarding the town's yard waste or sanitation collection, call the Sanitation & Recycling Collection Division at (516) 677-5848. There are also two drop-off locations for safe disposal of discarded Christmas trees within the town. The drop-off locations will be located at John J. Burns Park in Massapequa and William Bennett Community Center in Hicksville.
Riverhead - Christmas trees will be picked up on regular yard waste days. Later, all trees picked up will be taken to the town yard waste facility, where they will be ground up in the spring.
Shelter Island - Residents must bring trees themselves - or have their carter do it - to the town recycling center, where they are eventually chopped up along with the other brush and turned into ground cover or composted.
Smithtown - The highway department will pick up discarded Christmas trees any weekday through the end of January. Residents on private roads and gated communities must contact their trash service or maintenance provider to dispose of trees. Trees picked up by the town Highway Department usually are chipped and taken to the town landfill.
Southampton - Christmas trees may be brought for free disposal during January at Christmas Trees Town Transfer Stations; 631-283-5210; January 1 through January 31 North Sea, Hampton Bays and
WesthamptonNorth Sea facility at 1370 Majors Path, Southampton; 32 Jackson Ave., Hampton Bays; and 66 Old Country Rd., Westhampton. Trees, which must be free of all ornaments and wires, are grinded down for mulch.
Southold - Christmas trees can be dropped off at no charge at the town's compost site on Cox Lane in Cutchogue, located alongside the old landfill. Trees must be free of all ornaments, and are grinded down for mulch. Residents can get 500 pounds of free mulch per year.
Yonkers, NY - Christmas trees should be placed at curbside on regular refuse collection day. As part of the City's Recycling program, this division collects newspapers and commingle recyclables at curbside on Alternate Wednesday's. Click here for locations. updated information and more details. For more information, call 377-6270.