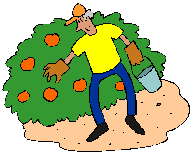 What's in season in October 2021, and other timely information:
October 2021: In a normal year, most Christmas tree farms are open up to Christmas Eve; but this year many farms are selling out of trees and closing early for the season, and some decided not to open at all, due to all the COVID19 restrictions. Some are only open on weekends, or only have hayrides, Santa visits and events on weekends. Demand will be high since people have been locked down and not allowed to do much - but you CAN go to farms. And a farm may be the only place you can take your kids to see Santa. Of course, check with the farm BEFORE YOU GO!
And next Spring, you'll want to take your children to a free Easter egg hunt - see our companion website to find a local Easter Egg hunt - (www.EasterEggHuntsAndEasterEvents.org) . It's the ONLY website that is updated every Easter for all Easter Egg hunts in the U.S.
Local Weather Forecast