Where and How to Recycle or Dispose of Christmas Trees in Delaware after Christmas 2022 and in January 2023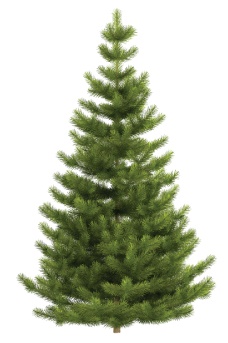 In many urban and suburban areas, Christmas trees are collected from curbside during the first 2 weeks in January. Be sure to remove all remove all lights, wire, tinsel, ornaments, nails, stands, other NON-Organic decorative materials and other materials that are not part of the original tree. This includes tree stands also. Flocked trees are usually accepted, but not artificial trees. Large trees (larger than the standard 6 - 7 ft tree) may need to be cut in half to be acceptable by your garbage hauler. But scrroll down this page for more specific information and local links.
What happens to the trees? In most cases, the trees are chipped and made into a mulch which is usually made available, free to city or county residents. Important: Never burn your Christmas tree in a fireplace or wood stove. Burning the tree may contribute to creosote buildup and could cause a chimney fire.
Tips: Always follow the links (usually the name of the city or county) below for updated information, as these agencies often wait until the last minute to change dates or update their information (it's government, remember?). If your area is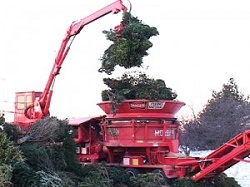 not specifically mentioned below, contact your trash collection agency and inquire!
Related information:
See this page for local options to easily recycle your Christmas holiday lights
If it has just snowed; see this page about how to make snocones from real snow! Your kids will love it!
Click here for the list of winter sleigh ride locations!
See our easy recipes to make a Chocolate Yule log and click here to make your own low-fat, low calorie but delicious Egg Nog ! Then come back to our other website in March to find a local Easter Egg Hunt for your children ! There are affiliate links on this page. Read our disclosure policy to learn more.
Delaware: Where and How to Recycle Your Christmas Tree After the Holidays January 2023
Christmas trees are no longer accepted for recycling at any Delaware State Park locations. If your area is not listed below,
See this statewide page or
.
New Castle County: Yard Waste Drop-off Sites
A fee is charged at these sites, except as noted. New Castle trash customers should check with their waste haulers for information about tree pickup. If pickup is unavailable from your trash hauler, check the list of yard waste drop-off sites

Kent County
Pond State Park 5025 Killens Pond Road, Felton Hours: Daily; 8 am to sunset. Kent County will collect Christmas trees only during the first two full weeks in January (on customers regular trash day) for those in trash districts that have yard waste collection service. After that, see the list of drop-off locations

Newark, Delaware
From Monday, December 31 to the last Friday in January, the city of Newark will collect Christmas trees placed at curbs. The crews will sweep through the city once per week during this time period. Please make sure trees are out for collection each week by Monday at 7:00 in the morning. No trees will be collected after that last Friday0. There is no need to call to schedule a Christmas tree collection. If you need to dispose of your tree after these dates, please click here for yard waste drop-off sites in New Castle County.
Christmas Tree Disposal: Christmas trees are "recycled" into mulch for use in the Parks and Recreation's beautification program. Please place the tree curbside for the Street Division to collect on your neighborhood's designated day of the week for pickup; much like the leaf collection schedule works. Call Public Works and Water Resources Department with any questions at (302) 366-7000. Neighborhood Tree Collection Schedule:


Monday

Center City, Fountainview, from Elkton Road/South Main St. to Marrows Road and from Main Street to the northern boundary of Friday's route (including White Chapel).


Tuesday:

Northern portion of the city, north of Main Street and east of West Main Street/Nottingham Road (excluding West Branch and Christianstead). Includes Fairfield, Fairfield Crest, Cleveland Avenue, Lumbrook, Creek Bend, Ridgewood Glen, Paper Mill Farms, Evergreen, Northgate Commons, Stafford, Parkview, The Hunt at Louviers, The Woods at Louviers, Middle Run Meadow, Laura's Glen, Wyncliff, and Jenney's Run.


Wednesday:

Area west of Bent Lane and Radcliffe Drive, including Nottingham Green, Pheasant Run, Cherry Hill, Elan, Cherry Hill Manor, Barksdale Estates, Country Hills, Country Place, Abbotsford and Briarcreek.


Thursday;

Oaklands, Nottingham Manor, College Park, Westfield, West Branch, Newark Preserve, Christianstead, Timber Creek, Woodmere, and Stone Spring.


Friday:

Southern area of the City, including Devon, Binns, Twin Lakes, Arbour Park, Silverbrook, Yorkshire, Yorkshire Woods, Cobblefield, and Cannon's Gate.
Sussex County, DE
Sussex trash customers should check with their waste haulers for information about tree pickup. If pickup is unavailable from their haulers, check this statewide page of yard waste drop-off sites All locations accept trees from families only, not from commercial haulers or tree vendors. Artificial decorations, including hooks, wire, tinsel and ornaments, as well as wood and metal trees stands, must be removed. Signs, designating the location of the drop-off areas at each location, will be posted. Please call ahead as businesses may alter their hours of operation around the holidays and COVID may have changed things. Also that there are other locations than those listed above throughout the state also accept Christmas trees for recycling, but charge a fee for the service. For more information about yard waste, visit DNREC's website, or call 302-739-9403 ext.1.To help defray costs, the state parks will accept donations of $2.Only Christmas trees from Delaware residents will be accepted for free. Please note that facilities may charge a fee for other yard waste.

Wilmington, DE - The Department of Public Works (DPW) encourages City residents to recycle their live (not artificial) Christmas trees. To do that, schedule a Special Pickup.
To schedule a tree for pickup:
Call the Public Works Call Center at (302) 576-3878 during normal business hours (Monday to Friday, 6 AM to 4:30 pm) and choose the yard waste option; or Visit the Public Works Call Center website .
Remove all decorations, ornaments, tinsel, and stand.
Place your Christmas tree on the curb the night before your pickup date depending on the your location.
Dial 311 within city limits or (302) 576-2620 from Verizon landlines or from outside city limits
HOURSOperators are on duty Monday through Friday, 7:30 a.m. to 7:30 p.m.
Wlmington, DE, Submit a 311 Request for Service
Or Drop-off: the tree at
The Delaware Center for Horticulture (DCH)
1810 N. Dupont Street Wilmington, DE 19806
DCH has partnered with The Davey Tree Expert Company again this year for TreeCycle to keep trees out of the landfill. Stop by the DCH parking lot on the second Saturday in January (January 7, 2023) between 9 am-2 pm with your tree and we'll do the rest.
Statewide Yard waste service options and companies - Once you open the page, use Ctrl-F to search for "Christmas tree"