Where and How to Recycle or Dispose of Christmas Trees in Saskatchewan after Christmas 2022 and in January 2023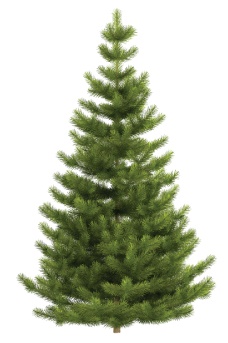 In many urban and suburban areas, Christmas trees are collected from curbside during the first 2 weeks in January. Be sure to remove all remove all lights, wire, tinsel, ornaments, nails, stands, other NON-Organic decorative materials and other materials that are not part of the original tree. This includes tree stands also. Flocked trees are usually accepted, but not artificial trees. Large trees (larger than the standard 6 - 7 ft tree) may need to be cut in half to be acceptable by your garbage hauler. But scrroll down this page for more specific information and local links.
What happens to the trees? In most cases, the trees are chipped and made into a mulch which is usually made available, free to city or county residents. Important: Never burn your Christmas tree in a fireplace or wood stove. Burning the tree may contribute to creosote buildup and could cause a chimney fire.
Tips: Always follow the links (usually the name of the city or county) below for updated information, as these agencies often wait until the last minute to change dates or update their information (it's government, remember?). If your area is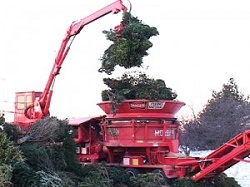 not specifically mentioned below, contact your trash collection agency and inquire!
Related information:
See this page for local options to easily recycle your Christmas holiday lights
If it has just snowed; see this page about how to make snocones from real snow! Your kids will love it!
Click here for the list of winter sleigh ride locations!
See our easy recipes to make a Chocolate Yule log and click here to make your own low-fat, low calorie but delicious Egg Nog ! Then come back to our other website in March to find a local Easter Egg Hunt for your children ! There are affiliate links on this page. Read our disclosure policy to learn more.
Saskatchewan: Where and How to Recycle Your Christmas Tree After the Holidays January 2023
Local municipality tree recycling Information
Dates are approximate; always check with the municipality or organization for the most current dates.
Estevan - Kinsmen Tree Drop Off
Each year the Estevan Kin Clubs put a containment bin for Christmas trees for City of Estevan residents on the East side of the Cemetery Road, South of the cemetery gates.
This bin is for organic tree waste only. No garbage or plastic bags. Be sure to remove all ornaments from the trees before disposing.

Last Mountain Regional Landfill - December 30 to mid-January
Free Christmas Tree drop off at the Last Mountain Regional Landfill. Wednesday & Saturday: 10:00a.m. to 3:00p.m.

Lloydminster -
(Eligible) Residential Curbside Collection usually in mid-January. Trees should be on the curb by 7am on collection day, with the tinsel and decorations removed
Landfill Drop Off - December 28 to the third week in January during regular operating hours. Decorations removed

Martensville Christmas Tree Collection Site - Open all year 24/7
The City of Martensville requests that residents dispose of their Christmas trees at the Yard Waste Composting Site (10th Ave. S) in the area designated for tree limbs. This site is accessible off of 10th Avenue South and is located directly south of the dog park.
Remove all lights, ornaments, tinsel, string, garland, tree stands and any other decorations. Do not dispose of artificial trees or household waste. Do not bag or wrap your tree (including recyclable tree bags). Please do not stack or place trees in a manner which may cause them to easily topple over, or in an area which impedes vehicular or pedestrian traffic

Meadow Lake - Compost Facility Open all year 24/7
Located at the 800 Block of 9th Avenue East

Melfort - Open all year 24/7
Christmas trees can be discarded at the Community Services Shop, 510 Division Street, on the north side of the building. Please ensure all lights and decorations have been removed from the tree.

Melville Free Tipping -January usually the first 7 days after New Year's day
The City of Melville is offering all residents free tipping for live Christmas trees at the Melville Landfill. Please remember to bring your proof of address.

North Battleford Christmas Tree Recycling - December 25 to the third week in January
Christmas trees can be dropped off at no cost at either the Waste Management Facility or to the Parks Department Yard during opening hours. All tinsel and ornaments must be removed from the tree(s) before being dropped off at the designated location.

Prince Albert - December 25 to about the 10th of January
Citizens of Prince Albert are encouraged to drop off their Christmas trees for city pick-up, at no cost, by the Alfred Jenkins Field House on the corner of 28th Street and 10th Avenue West. City staff will dispose of trees from the drop off point until January 11th, 2021. Signs will be up indicating where to place trees.

Regina Treecycle Program - December 26 through the month of January
Free Christmas Tree Drop off at the Fleet Street Landfill for composting. Monday to Saturday from 7 a.m. to 5:30 p.m. While tinsel and garlands add a festive sparkle, please be sure your tree has no decorations and is not in a tree disposal bag when dropping off at the depot.

Saskatoon Christmas Tree Compost Drop offs - December 26 through the month of January
Live (natural) trees only. Artificial trees should be sold, donated, or disposed of at the Landfill. Trees should be unwrapped and unbound. Remove all decorations, ornaments, and plastic bags before dropping off your tree. Even small bits of tinsel or plastic can impact the quality of the wood chips.

Swift Current Christmas Tree Collection - December 23 to mid-January
North Side - Innovation Credit Union I-Plex lot, yard waste site, South Side - Former St. Joe's School Site on Dahl Street, West Side - Truck Water Fill Station (North Service Rd W) or East Landfill
You can also take your tree directly to the City Landfill if you so choose, free of charge for this same duration

Weyburn -one day in January, call them for the date
The Young Fellows will be picking up real Christmas trees left curbside on Sunday, January 10.

White City Christmas Tree Pick Up - January 5th to mid-January
Town staff will start picking up your used Christmas tree once the new year begins. Please make sure all decorations and lights are removed from the tree before placing it on your driveway with the stump facing towards the road. Town staff will be driving around collecting trees continuously throughout the days.

Warman - the second and third weeks in January
The City of Warman will have a compost bin for Christmas trees located on the east side of Diamond Arena, 2 Pacific Avenue, Warman SK.

Yorkton - December 25 to mid-January
You can drop off your natural Christmas tree for free at the drop off area in the Gallagher Centre Parking Lot.
ALL decorations, lights, tinsel, stands, nails and tree bags MUST be removed prior to placing your tree curbside.
I'm working on this now! If you have any links to city or other local Christmas tree recycling, curbside pickup, etc., please let me know!