Where and How to Recycle or Dispose of Christmas Trees in Alabama after Christmas in January 2021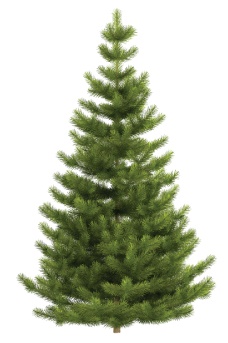 In many urban and suburban areas, Christmas trees are collected from curbside during the first 2 weeks in January. Be sure to remove all remove all lights, wire, tinsel, ornaments, nails, stands, other NON-Organic decorative materials and other materials that are not part of the original tree. This includes tree stands also. Flocked trees are usually accepted, but not artificial trees. Large trees (larger than the standard 6 - 7 ft tree) may need to be cut in half to be acceptable by your garbage hauler. But scrroll down this page for more specific information and local links.
What happens to the trees? In most cases, the trees are chipped and made into a mulch which is usually made available, free to city or county residents. Important: Never burn your Christmas tree in a fireplace or wood stove. Burning the tree may contribute to creosote buildup and could cause a chimney fire.
Tips: Always follow the links (usually the name of the city or county) below for updated information, as these agencies often wait until the last minute to change dates or update their information (it's government, remember?). If your area is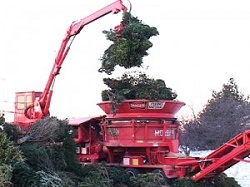 not specifically mentioned below, contact your trash collection agency and inquire!
Related information:
See this page for local options to easily recycle your Christmas holiday lights
If it has just snowed; see this page about how to make snocones from real snow! Your kids will love it!
Click here for the list of winter sleigh ride locations!
See our easy recipes to make a Chocolate Yule log and click here to make your own low-fat, low calorie but delicious Egg Nog ! Then come back to our other website in March to find a local Easter Egg Hunt for your children ! There are affiliate links on this page. Read our disclosure policy to learn more.
Alabama: Where and How to Recycle Your Christmas Tree After the Holidays January 2021
Auburn and Opelika - The Keep Opelika Beautiful and Opelika Tree Commission hosts a Christmas tree Recycling Event at the Opelika Chamber of Commerce parking lot. This takes place the Saturday after Christmas from 8 am to 12pm. Citizens receive a tree seedling in exchange for the tree. Auburn, Alabama waste collection page.
Baldwin County - Trees free of decorations can be brought to any of the following locations. For more information on the Annual Baldwin County Christmas Tree Recycling Program, call (251)972-6878.
Bay Minette Transfer Station: 4291 Nicholasville Rd, Bay Minette, AL 36507.
Spanish Fort Volunteer Fire Dept: 7580 Spanish Ford Blvd, Spanish Fort, 36527.
MacBride Landfill: 14200 County Rd 64, Loxley, 36551.
Baldwin County Central Annex: 22251 Palmer St, Robertsdale, 36567.
Fairhope Satellite Courthouse: 1100 Fairhope Ave, Fairhope, 36532.
Magnolia Landfill: 15140 County Rd 49, Summerdale, 36580.
Foley Satellite Courthouse: 201 E. Section Ave, Foley, 36535.
Perdido Beach Volunteer Fire Dept: 8450 Escambia Ave, Perdido Beach, 36530.
Birmingham - curbside pickup. Treesare chipped by the city as part of their normal landscaping and yard debris removal service on regularly scheduled pickup days. This news story has more information . The Birmingham Zoo and the Mountain Brook Tree Commission are working together to recycle natural Christmas trees at the Birmingham Zoo. Drop off natural trees free of ornaments, garland, etc. at the zoo's picnic area until January 6. The trees will be turned into mulch and used to control erosion throughout the zoo.
Cullman - Drop off your trees in front of the Aquaculture Center of Gadsden State Community College. The tree branches will be dropped into the school's ponds to encourage the spawning of yellow perch. The college is located on Wallace Drive in Gadsden.
Dothan - Drop off natural Christmas trees at Dothan Utilites' 200 Kilgore Drive location, December 29th through January 9th. Please remove all decorations and ornaments prior to bringing your tree for chipping.
Enterprise -
Fairhope - Trees will be picked up during regular scheduled trash days through February 22nd. Mulch created from those trees will be available at no cost to residents on Arbor Day (Feb. 27) from 9:00 am until noon at the Public Works Warehouse located at 555 S. Section Street. If you have questions, call 251-990-0192.
Enterprise - Natural Christmas trees are picked up curbside and are chipped by the city as part of their normal landscaping and yard debris removal service. Some trees will be ground for mulch while others will be deposited in local ponds to create fish habitat..

The City of Enterprise does NOT accept drop off of old Christmas trees. We will pick up curbside on their normal garbage day. Per ADEM residents are not allowed on our premises. Again, NO DROP OFF location at the City of Enterprise.

Gardendale - Old Christmas trees are picked up curbside and are chipped by the city as part of their normal landscaping and yard debris removal service. Mulch generated goes to Gardendale city landscaping.
Homewood - From 8 am to 8 pm on December 26 through January 9 natural, decoration free Christmas trees can be brought to the corner parking lot at Dale and Grace St. The trees will be recycled and the mulch will be used for paths at the Homewood City School's Community Garden. Decoration-free, natural trees can also be dropped off in the designated areas in the back rear parking lot of the Homewood Public Library.
Hoover - Christmas trees will be picked up curbside in January and are chipped by the city as part of their normal landscaping and yard debris removal service on regularly scheduled pickup days. There will also be a drop-off site on Municipal Lane, across from the Lake House. Signs will be posted on Municipal Lane after Christmas.
Huntsville - The city will pick up Christmas trees at curbside on your normal yard waste collection day. Be sure to remove ornaments, lights, stands, tinsel, etc.
The Solid Waste Disposal Authority of the City of Huntsville (SWDA) and its curbside recycling program, Recycling Alliance of North Alabama (RANA), in coordination with the City of Huntsville, Madison County, the City of Madison and Operation Green Team are hosting the Second Annual Operation Christmas Clean Up on January 9, 2021 from 8 a.m. until 1 p.m. at two locations
Joe Davis Stadium (3125 Leeman Ferry Road) and
the Madison City Schools Stadium (211 Celtic Drive).
Residents can recycle their Christmas trees, flattened and broken-down cardboard boxes, batteries, and old electronics. To recycle a live Christmas tree, participants must remove all lights and ornaments. Items that will not be accepted are artificial trees, wrapping paper and packaging materials (Styrofoam, plastic).
Also, Natural Christmas trees can be dropped off at the Huntsville Botanical Gardens mulch pile (East of the main entrance) beginning December 26 through mid-January. The trees will be recycled and the mulch will added to the cities mulch pile. Mulch is free for citizens of Huntsville to use in their own landscaping. For questions or concerns please contact the Huntsville Botanical Gardens at 256-830-4447.
Also on one day, January 9, 2021 from 8:00 am - 1:00 pm; Huntsville's Green Team is partnering with the Solid Waste Disposal Authority to help you recycle post-holiday items.
Selected recyclables from the list below may be dropped off at the Joe Davis Stadium parking lot on Saturday, January 9, from 8 a.m. to 1 p.m.
PLEASE DO BRING:
Live Christmas trees, cardboard, batteries & electronics (TV's, game consoles, etc)*
Remove lights & ornaments from live trees
Break down and FLATTEN your cardboard boxes prior to arrival
PLEASE DON'T BRING:
No wrapping paper, no packaging materials such as styrofoam, plastic wrap, zip ties, metal straps, etc
Mobile - Christmas Tree Recycling from December 26 through the mid-January from 7 am to 5pm (Daily). Drop off your unwanted Christmas tree for FREE. All trees must be free of lights, stands, and decorations.
Here are the Drop-off Locations:
Drop-off Locations
Lake Drive Tricentennial Park - 2121 Lake Drive
James Seals Park - 540 Texas St
Baumhauer-Randle Park - 1909 Duval St., Mobile
Dog River Park - 2459 Dog River Drive N.
Pinehill Recycling Center - 308 Pinehill Dr.
Medal of Honor Park - 1711 Hillcrest Rd.
Langan Park (Municipal Park) - 4901 Zeigler Blvd
For more information email pompeya@cityofmobile.org.
Trees are chipped and the mulch generated is available for public use beginning in January. Flocked trees will not be accepted. For questions, please contact Keep Mobile Beautiful at 251-208-6029. Holiday lights can be recycled at the Metro Recycling Center. Lights collected at the center are donated to the Master Gardeners for various community garden projects! Take your tree to any of the following locations:
Parkway Plaza -- 2655 Dauphin Island Parkway
2501 Government Boulevard -- in front of Food World
Wildwood Shopping Center -- 4055 Cottage Hill west of Azalea
Airport at University -- behind the BP Station
Westwood Plaza -- Airport at Schillinger
Park Forest Center -- Moffet at Forest Hill Drive

Montgomery - There is curbside tree collection for residents, Trees placed by the curb or road will be taken to the landfill and will not be recycled. For more information, please call (334) 625-2175.
You can also have them recycled. Residents can take discarded Christmas trees to any one of the City's regular Saturday trash drop-off points between 9 a.m. to 3:30 p.m. on the Saturday after New Year's Day, January 2, 2021 to participate in the recycling program. In addition to Christmas trees, the City's Saturday sanitation drop-off points will accept all of the usual items on Dec. 26 from 9 a.m. to 12:30 p.m. - providing Montgomery residents with an extra half-day of service.
Saturday trash pick-up locations include the Old Sears site at South Court Street and Fairview Avenue, Cramton Bowl north parking lot, Goodwyn Middle, Halcyon Elementary, Harrison Elementary, BTW (formerly Hayneville Road Elementary School), Morningview Elementary, One Center (formerly Montgomery Mall), Sheridan Heights Community Center, Southlawn Middle School, Vaughn Road Elementary and Wares Ferry Elementary. For addresses of these locations, please visit www.montgomeryal.gov/city-government/departments/sanitation/saturday-trash-drop-off-points.
Alabama Wildlife and Freshwater Fisheries (ALWFF) will use recycled trees to expand its fish habitats at about 20 small public fishing lakes scattered throughout the state that are managed intensively to provide fishing opportunities to the public. Cultivating fish habitat is an important component to outdoor tourism in Alabama as it congregates fish in certain areas, which appeals to anglers. ALWFF discovered recycled Christmas trees added to these lakes attract more fish than any other habitat type.
Mountain Brook - Drop off natural Christmas trees (free of decorations) at the zoo's picnic area next to the parking lot during normal business hours, December 26th through January 6th. The trees will be turned into mulch for use at the zoo. Note that trees left at curbside will not be recycled. This is a partnership between the Mountain Brook Tree Commission and the Birmingham Zoo.
Prattville - Natural Christmas trees can be dropped at the Recycling Cente, 122 Ridgewood Road (across from Mac Gray Park) on January 6th from 7:30 am to 1 pm. Remove all lights, ornaments, tinsel, and other decorations. The trees will be mulched and used in landscaping throughout Prattville. You can also put your natural tree at curbside on your normal Residential Yard Trash collection day and the Sanitation Dept will collect it for recycling.
Tuscaloosa - Each year, the city of Tuscaloosa Environmental Services Department hosts a Christmas Tree Recycling Event. There is squat on their website this year about (don't you just love government?) but they'll probably do the same this year. Real Christmas trees, along with real garland and wreaths, can be dropped off during the two weeks following Christmas at the City's Environmental Services Department at 3440 Kauloosa Aveue Tuscaloosa, AL 35401. The trees, garland and wreaths are mulched by a local business and used in a multitude of projects including mulched landscaping applications, erosion control, and bio fuels for wood-burning boilers. Christmas trees, garland and wreaths must be stripped of all decorations. Artificial trees, artificial wreaths and artificial garland will not be accepted. For questions, please contact the Environmental Services Dept. at 205-248-4900 or email ESD@tuscaloosa.com

Shelby County-County citizens can drop off their trees for recycling on December 26 through the first week in January at the following locations:
Pelham City Park (off US 31 in Pelham)
Ray Building (off Alabama 70 in Columbiana)
Chelsea City Hall
Heardmont Park on U.S. 119
Propst Alabaster LLC (formerly Colonial Properties Alabaster, at the end of the AmStar Theater parking lot)
All drop areas are located in parking lots and designated with orange traffic cones and signs.
Vestavia - Decoration free, natural Christmas trees can be dropped off at Scout Square (The Christmas Tree Lot) right off of Highway 31 in Vestavia. Donated trees are used as fish habitats in the lakes on the properties of Alabama Power.