How to Select a Christmas Tree Farm - What Features to Look for!

If you've never been to a Christmas tree farm, some of the terms, like baling, drilling, flocking may be gibberish. And without having experienced it, hayrides, train rides and other amusements may not be appreciated! This page and the photos below should help you understand what they mean and select a farm that meets or exceeds your needs.
Determine whether you are simply looking for the best quality tree, at the best price; or whether you are also looking for a half-day's experience for the family. They are very different types of farms. We'll start with the simplest and work down the page to the more elaborate types of Christmas Tree farms!
Tree only
If you are only looking for a tree, then you have two options:
choose and cut
or
precut (also called pre-harvested or "fresh cut")
Choose and Cut Christmas Tree Farms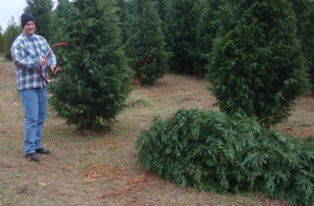 Choose-and-cut farms range form simple plots with trees and a guy waiting by a truck to collect your money, to agri-entertainment farms. The common point is that the trees are growing in the ground, and you walk out among them to choose the one you like. Then with a bow saw (usually provided free of charge by the farm), you cut the tree down.
Many farms of the option of having them cut the tree down for you!
Next you bring the tree back to your car. Again, there are many options. Some farms provide little wagons. Others have a truck drive out to pick it up. In some cases you may have to carry it yourself. Others have hayrides / hay wagons back to the farm, with a trailer to carry your tree.
Precut Trees / Lots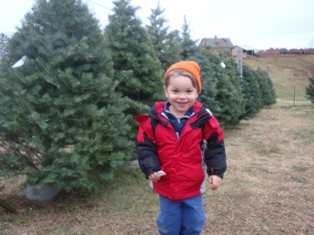 Most farms that sell choose-and-cut Christmas trees also sell pre-cut trees. Why? Because not all varieties of Christmas trees grow well everywhere. Many people prefer the traditional Fraser Fir, but it does not grow well in hot climates like the deep South; so tree farms in Georgia, Alabama, Florida, etc. often have preharvested Fraser Firs brought in from North Carolina each week.
Of course, a seller of nothing but precut Christmas trees with none growing on the premise, is usually called a Christmas tree lot, rather than a tree farm. We list those, too, on this website, because many of them have evolved into a farm-like experience, or certainly a Christmas experience. And few people who have seen "A Christmas Story" can deny that is also a unique and traditional Christmas tree experience, too. My 3 year old is equally happy among the pre-cut or the choose-and-cut trees!
Trees and More!
The tree selecting and cutting experience is a fun family event all on its own, but many farms enhance the experience to make it a half-day family outing. Here's what they often offer: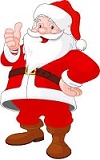 Santa visits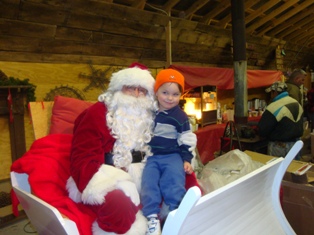 Santa visits some farms, typically from 12 pm to 3 pm on Saturdays, Sundays, too, IF the farm is open on a Sunday (many aren't). There's usually no charge, unless you want a photo, so bring your camera!
Live Reindeer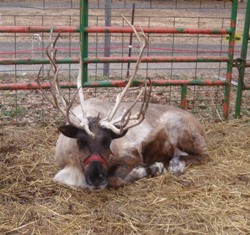 Yes, you can see, and sometimes even pet, real live reindeer at a few of the farms. There's no guarantee that they are Rudolph or any of the original eight (Prance, Comet, Totallyblitzed, Sneezy, Doc, etc... I never can remember their names) but they are big, hay munching real reindeer! If you've never seen one up close, they are big, usually fairly friendly and distinctively different from ordinary white tailed deer. Children are fascinated by them. You have to give credit to the tree farmers for being creative by bringing reindeer in!
I'm just waiting for the day I hear of a farmer strapping driftwood antlers to a dog, calling him "Max" and putting him in a pen.... PETA might call him the Grinch, though...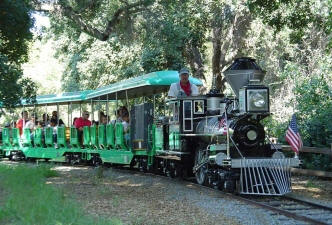 Christmas themed park, rides, light displays or amusement
Some farms have winter villages with a miniature North pole or other playground activities. others have actual rides. A few even have narrow gauge trains! More common are drive-through Christmas light displays (only at night, of course!). Some of these may be 1 to 2 miles long.
Petting zoo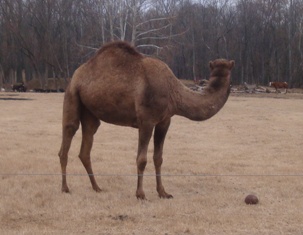 Common to many farms, a petting zoo allows your children to actually pet or touch some animals. Typically, rabbits, goats, chickens, sheep and sometimes more exotic animals. Hand sanitizer and/or a washing station must be present under many state laws and common sense!
Farm animals
If the listing includes "farm animals" this means you can see, and be within a few feet of the animals, but not touch them. Usually they're behind a fence. Often, cows and larger farm animals are present!
Hay rides
Who doesn't like a hayride? The rides often take you around the farm, frequently out to the fields where the trees grow!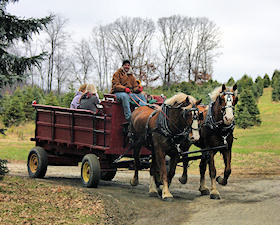 Often free, a few farms charge $1 to $3. Most are tractor-pulled, but a few are horse-drawn.
Wagon rides
Like a hayride, but you sit on benches instead of hay bales; still fun! Sometimes, the term wagon ride or hayride is used interchangeably. Sometimes they are horse-drawn, other times, a tractor is used to pull the wagon.
Sleigh rides
If you are REALLY lucky and the weather cooperates, a few farms offer sleigh rides, on a real big, horse-pulled sleigh! Except in very cold northern or mountainous area, these are usually catch-as-catch can, meaning you must call in advance to reserve a spot on a list. Then IF there is a sufficient snowfall, they will call you back and ask if you want to go. Often stables, that do NOT sell trees, offer sleigh rides, so be sure to check! This page has links to the sleigh rides we know of, listed by state!
Additional services
Tree shaking provided
A mechanical device vigorously shakes the tree to knock of dead or loose needles, and the occasional bug or rodent! Shaking is obviously a valuable service, and is usually offered for free when it is available.
Trees baled, baling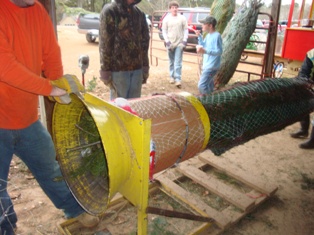 A net pulled over the tree to keep it safe and aerodynamic during its ride home on the roof of your car. Usually offered for free.
Loading
Many farms will help lift, load and secure the tree to your car.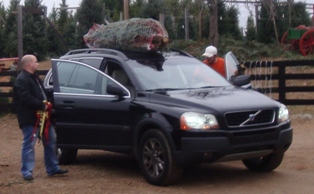 Trees bagged
Very similar to baling; just uses a bag instead of a net!
Trees tied
This usually means they will tie the branches together to keep the tree tight during the trip home, like baling or wrapping.
Drilling
Some people believe that holes drilled in the base of the tree help it to take up water. drilling can also be done to help the tree fit in certain types of tree stands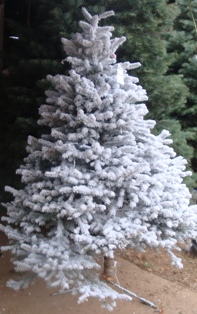 Frosting or Flocking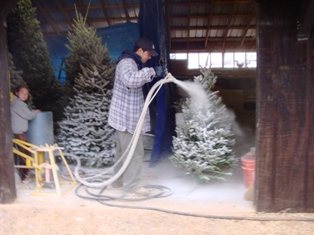 Trees may be sprayed with artificial snow to make them look like they are in a snow storm. Not my cup of tea, but some farms offer it, and some people like it!
---
Additional products
Beyond Christmas trees, many farms are sell fresh, natural Christmas wreaths, boughs, garlands and grave blankets. A few sell mistletoe, too. Many farms offer free tree trimmings.
Gift shops
Most farms have a gift shop, or at least a gift area, selling Christmas decorations. Most also sell Christmas tree stands.