Nordmann Fir - Photo at right. An excellent needle retaining species with soft glossy dark green needles. Nordmann Firs are the preferred Christmas tree of Europeans, with long, full, lush, dark green foliage, similar to a Fraser fir, but soft to the touch and with excellent needle retention. Nordmann Fir Christmas Trees can reach 60 feet in height with a spread of 25 to 30 feet. Their soft and lustrous black-green needles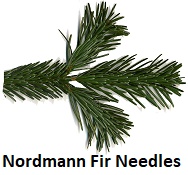 stem from symmetrically arranged branches, producing the ideal pyramidal specimen for a Christmas tree. Nordmann Firs are also popular as ornamental trees in parks and gardens. This tree is very popular in Great Britain. Wikipedia has more information and does this grower's website.
See the photo at right.