Where and How to Recycle or Dispose of Christmas Trees in Wyoming in after Christmas in 2018 and January 2019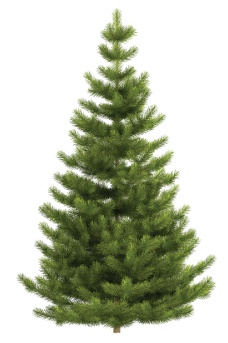 In many urban and suburban areas, Christmas trees are collected from curbside during the first 2 weeks in January. Be sure to remove all remove all lights, wire, tinsel, ornaments, nails, stands, other NON-Organic decorative materials and other materials that are not part of the original tree. This includes tree stands also. Flocked trees are usually accepted, but not artificial trees. Large trees (larger than the standard 6 - 7 ft tree) may need to be cut in half to be acceptable by your garbage hauler. But scrroll down this page for more specific information and local links.
What happens to the trees? In most cases, the trees are chipped and made into a mulch which is usually made available, free to city or county residents. Important: Never burn your Christmas tree in a fireplace or wood stove. Burning the tree may contribute to creosote buildup and could cause a chimney fire.
Tips: Always follow the links (usually the name of the city or county) below for updated information, as these agencies often wait until the last minute to change dates or update their information (it's government, remember?). If your area is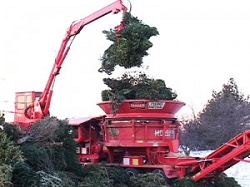 not specifically mentioned below, contact your trash collection agency and inquire!
Related information:
See this page for local options to easily recycle your Christmas holiday lights
If it has just snowed; see this page about how to make snocones from real snow! Your kids will love it!
Click here for the list of winter sleigh ride locations!
See our easy recipes to make a Chocolate Yule log and click here to make your own low-fat, low calorie but delicious Egg Nog ! Then come back to our other website in March to find a local Easter Egg Hunt for your children !
Wyoming: Where and How to Recycle Your Christmas Tree After the Holidays
Casper, WY - Take your tree to one of the following drop-off locations available December 20th until January 30th. Remove tinsel, lights and other decorations. Wreaths may be placed if they are removed from the wire frame. Trees left at the drop-off locations are turned into compost that is available to the public and used in parks. City of Casper residents who are trash customers may also call the solid waste office for a curbside pickup (call 235-8246). Appointments are must be made by the second Friday in January.


CITY OF CASPER


Paradise Valley Swimming Pool (Iris St.)
13th and Sycamore Ball field
South Mike Sedar Park (College Dr.)
Agricultural Resource & Learning Center (Fairgrounds Rd.)
Viking Court by sidewalk overpass (Blackmore Rd. and Wyoming Blvd.)
Athletic Complex on E "K" St.
Compost Yard at the Solid Waste Facility (open 7:30 a.m. to 4 p.m. Monday through Saturday)


TOWN OF MILLS


624 SW Wyoming Blvd (across from town hall)


TOWN OF EVANSVILLE


Compost Yard (280 5th St)
Cheyenne, WY - Cheyenne area Boy Scouts will pick up real Christmas trees again throughout the Cheyenne city limits on Saturday, January 5th. Trees to be picked up should be placed on the front curb by 6:30 a.m., and must be free of tinsel, wire, nails, ornaments, plastic bags, and other non-natural materials. In case of windy weather, trees should be secured to a mailbox or other fixture with twine that can be easily cut. Residents who would like to dispose of their real tree before or after January 4 are urged to drop them off at one of the following locations:
- City Compost Facility, 3714 Windmill Road - Thursday and Friday from 10 a.m. to 5 p.m., or Saturday from 12 pm to 4 p.m.
- Grant Farms, 2120 East Lincolnway - Anytime in the perennial yard.
- River Bend Nursery, 8908 Yellowstone Road - In the fenced-in area outside the gate.
A big thank you to the Boy Scouts and the Order of the Arrow for their participation in this Christmas tree pick up.
For more information, call the Sanitation Division at 637-6440.

Jackson, WY / Teton County - Drop your Christmas tree off at the Rodeo Grounds parking lot, next to the big blue recycling containers. Free through January only. Of course, remove all ornaments, lights, tinsel, etc.

Laramie, WY - Christmas Tree Pickup Program Information / Regulation: The City of Laramie Street Division will begin its annual Christmas tree pickup on Monday, January 5th. Tree pickup will continue through Friday, January 30.Trees should be left next to the curb and should be stripped of all lights, decorations, wires, etc. The Street Department will chip the trees and citizens may pick up chipped material to use as mulch at the storage site along the gravel road through Labonte Park. Please contact the Street Department at 721-5276 or 721-5277 if you have any questions regarding the tree pickup program.

Sheridan, WY - Christmas tree drop-off locations are scheduled annually from December 26 through January 31. Locations are posted on this website and on the Solid Waste Division calendar. You may also bring Christmas trees to the landfill free of charge.