Where and How to Recycle or Dispose of Christmas Trees in Kentucky in after Christmas in January 2020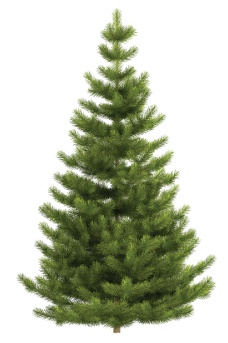 In many urban and suburban areas, Christmas trees are collected from curbside during the first 2 weeks in January. Be sure to remove all remove all lights, wire, tinsel, ornaments, nails, stands, other NON-Organic decorative materials and other materials that are not part of the original tree. This includes tree stands also. Flocked trees are usually accepted, but not artificial trees. Large trees (larger than the standard 6 - 7 ft tree) may need to be cut in half to be acceptable by your garbage hauler. But scrroll down this page for more specific information and local links.
What happens to the trees? In most cases, the trees are chipped and made into a mulch which is usually made available, free to city or county residents. Important: Never burn your Christmas tree in a fireplace or wood stove. Burning the tree may contribute to creosote buildup and could cause a chimney fire.
Tips: Always follow the links (usually the name of the city or county) below for updated information, as these agencies often wait until the last minute to change dates or update their information (it's government, remember?). If your area is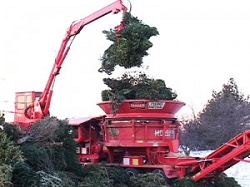 not specifically mentioned below, contact your trash collection agency and inquire!
Related information:
See this page for local options to easily recycle your Christmas holiday lights
If it has just snowed; see this page about how to make snocones from real snow! Your kids will love it!
Click here for the list of winter sleigh ride locations!
See our easy recipes to make a Chocolate Yule log and click here to make your own low-fat, low calorie but delicious Egg Nog ! Then come back to our other website in March to find a local Easter Egg Hunt for your children ! There are affiliate links on this page. Read our disclosure policy to learn more.
Kentucky: Where and How to Recycle Your Christmas Tree After the Holidays
Kentucky Fish and Wildlife - Across the state , KDFWR has drop-off points across the state where you can bring your old tree and put it to good use. KDFWR will take your tree and combine it with others to create fish attractors for lakes all over the state. These brush reefs provide nesting and rearing habitat for gamefish as well as creating homes for invertebrates and smaller fishes that provide food for larger fish. Just clean your tree of all of the artificial decorations, lights, tinsel, ornaments, etc. and drop it off - click the link above for our locations list !
Campbell County - residents can begin dropping their trees off Wednesday at various sites. The trees will be collected and turned into compost by Northern Kentucky University.
Alexandria - Maintenance Garage, 865 Gilbert Ridge Road; December 26th through January 8th;l 859.635.4125
Ft. Thomas; Place curbside December 27th; , January 3rd or January 10th; Or deliver to Tower Park parking lot adjacent to the VA Hospital; 859.441.1055
Highland Heights - City Building, 176 John's Hill Road; December 26th through January 8th; 859.441.8575
Newport - Across from Public Works, 1020 East 9th Street; December 26th through January 15th; 859.292.3686
Southgate - Place curbside or deliver to 260 West Walnut; December 26th through January 5th; 859.441.0075
Wilder - Public Works, 114 Center Street; December 26th through January 8th; 859.581.8884
Unincorporated Campbell County - Pendery Park, 4051 Mary Ingles Hwy; December 26th through January 8th; 859.547.1866
Florence, KY - Two options are available to recycle your Christmas tree this season. Curbside pickup will occur early January (set out no later than 7:00 a.m.) or a drop-off site at Stringtown Park will be available until Saturday, January 4, 2020 (drop-off before 8:00 a.m.). Please click the following link for details: Christmas Tree-Recycling.
Junction City, KY - Boyle County Department of Solid Waste Mgt. will now begin accepting Christmas trees for Recycling and Disposal, at the Alum Springs Convenience Center, 859-854-3404, from 9 am to 4:30 pm Tues. - Saturday, except holidays. Cities of Danville and Perryville and also those with private trash collection must cut Trees in 3 foot sections, Trees should be placed curbside only on regular scheduled trash days. Must meet these requirements:
All lights, tinsel, garland, tree stands, and ornaments MUST be removed. These items will damage the tub grinder. Any trees not meeting these strict requirements WILL NOT be collected.
Artificial trees or trees that have been treated with a chemical, i.e. artificial snow, must be taken to Convenience Centers for disposal, or cut in 3' sections and set out to curb on your regular trash day.
For Convenience Center drop-off BOYLE COUNTY RESIDENTS ONLY, PROOF OF RESIDENCY REQUIRED.
For more information Call Boyle County Department of Solid Waste at 859-319-4803 or M & M Sanitation at 859-936-0957
Lexington, KY - Christmas trees can be recycled with yard waste. If you are a city garbage customer, put your tree on the curb for normal collection day. Christmas trees are collected after the holiday through late-January . Make sure all ornaments, lights and tinsel are removed from the tree. Contact LexCall 3-1-1, or 425-2255 if Christmas Tree is not collected on your normal collection day. Apartment and businesses should call LexCall for information on Christmas tree pickup.
Louisville, KY - residents are encouraged to recycle their natural Christmas trees, turning them into nutrient-rich mulch for free.


Curbside Collection


Beginning December 26, residents with City curbside yard waste pickup may set their Christmas trees and greenery out on their regular collection day. Trees must not be in plastic bags, and all decorations must be removed. Residents normally serviced by private waste haulers should check with those companies to see whether and when tree pickup is available.


Drop-off sites


will also be available for all Louisville/Jefferson County residents at three locations. Two of the three drop-off sites will also instantly recycle trees in to mulch that will be offered back to citizens for home use.
Those wishing to receive mulch must bring an appropriate container in which to carry it. Trees picked up from curbside will also be recycled but not offered as mulch. All lights and ornaments should be removed from trees before they are set out or dropped off.


DROP OFF LOCATIONS


hours are 9 a.m. to 4 p.m.
- Recycling Center - East District, 595 N. Hubbards Lane - December 26 - 29, January 2
- Recycling Center - Southwest Government Center, 7219 Dixie Highway - December 26 - 29, January 2
- Waste Reduction Center - 636 Meriwether Avenue (Tree drop-off only. Mulch not available at this location.) Jan 2 through January 31
For every five trees recycled, approximately 35 pounds of mulch can be created and used to help new plant and tree growth. This mulch performs particularly well for acid-loving plants such as azaleas and rhododendrons.